Main Office Healthcare Center
Our health care professionals are specially trained to be sensitive to patient needs and focus on the prevention and early detection of common health issues.
AID Atlanta's Main Office Healthcare Center specializes in providing comprehensive primary medical care services specifically for patients with HIV. Our highly trained medical staff provide the highest quality of patient-centered HIV medical care. We utilize a multidisciplinary team approach to patient care. Several medical and supportive staff members work together on our patient's behalf to ensure each person receives the most comprehensive care.
Location Info
1438 W Peachtree St NW
Atlanta, GA 30309
Hours: Monday through Friday – 9:00 AM – 6:00 PM
Fax: (855) 684-6060
Primary Medical Care for HIV-Positive Patients
Medication and Insurance Co-Pay Assistance
On-Site Pharmacy
Nutrition Assistance
Patient Navigation
Laboratory Services
Medical Case Management
STI Treatment
Pre-Exposure Prophylaxis (PrEP) physical exams
Wellness Center
Free Rapid HIV tests & STI Testing are offered onsite daily. Pre-test and Post-test counseling are administered with each test.
Hours of operation for HIV/STI testing are Monday-Friday, 10:00 am-6:30 pm (Last person is taken one hour before closing)
AID Atlanta uses INSTI Rapid HIV test.. The INSTI® HIV-1/HIV-2 Rapid Antibody Test is a rapid in vitro qualitative test for the detection of antibodies to Human Immunodeficiency Virus Type 1 and Type 2 in human whole blood, fingerstick blood, or plasma.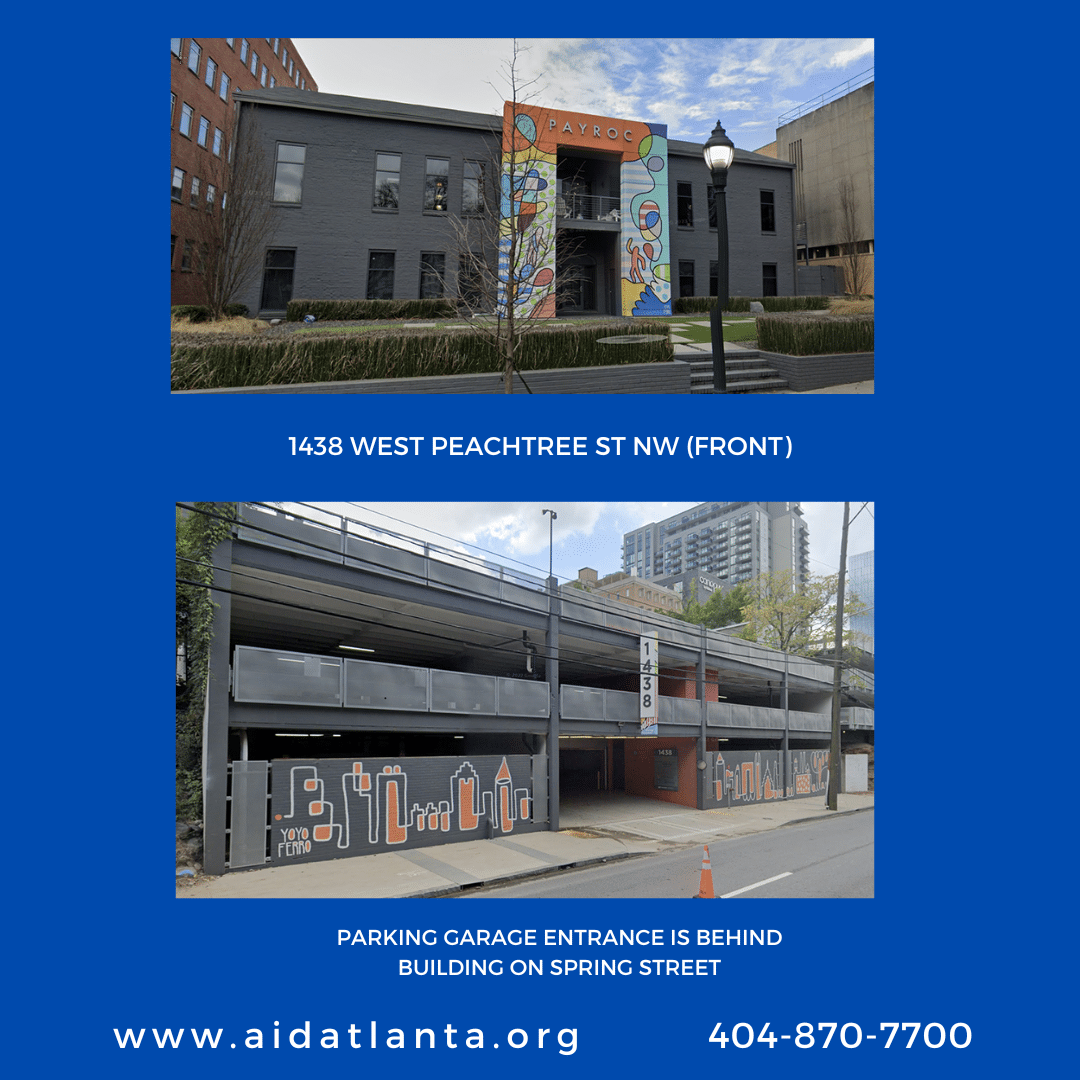 Primary Medical Care for HIV-Positive Patients
Medication and Insurance Co-Pay Assistance
On-Site Pharmacy
Laboratory Services
Medical Case Management
Housing Assistance
Location Info
770 Greison Trail
Newnan, GA 30263
Hours: Monday through Friday – 8:00 AM - 5:00 PM
Fax: (855) 667-1581